Dog Training Client Testimonials
Fort Lauderdale Dog Training Clients
Share Their Success Stories!
O'Loughlin Family
Tina Alderman came highly recommended by a family member when we were dealing with a very traumatic incident of a dog bite after hurricane Irma hit in fall of 2017. The stress from the storm caused our dog Ginger to be completely out of sorts which resulted in a dog bite to my oldest daughter. Needless to say, we were faced with the decision of either putting down our family dog or getting intense training to make sure this horrible event wouldn't be repeated.
Tina came over to our house and evaluated Ginger and informed us that our dog likely had fear-based aggression. She agreed to train her and give us the tools we needed to ensure we would not have another incident. Ginger stayed just shy of two weeks with Tina and when we picked her up she was a completely different animal. She was not jumping all over us with excitement. Instead, she remained seated and exhibited self-control as we greeted her.
With the help of Tina we were able to recognize the specific triggers that were causing Ginger's anxiety. Tina taught us how to take control of the situation which would, in fact, ease Ginger's anxiety. We are now able to go for walks without uncomfortable dog encounters, entertain guests without our dog jumping all over everyone and not have our dog begging for food or barking at us repeatedly.
I highly recommend Tina and have referred her to a lot of family and friends. She really is "The Dog Whisperer."
The Gulbranson Family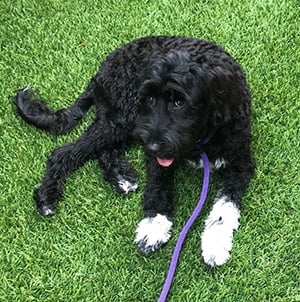 As a family we were having trouble gaining control of our new puppy. Tina came as a highly recommended referral from others around town. Our pup Rosa had a dominance problem. She was dominating our house and our lives! She had NO boundaries.
Tina is exceptionally professional. In every session we had with her she had a plan of what she was going to work on with us. During the first session, Tina came in and assessed Rosa as well as our family. She implemented a new set of rules for both the dog and us. She conveyed to us how important it is to be consistent with our training of Rosa.
Rosa WAS an aggressive, dominating puppy. She now knows her place and is under control.
Tina was able to gain Rosa's respect so quickly and her behavior improved after just one session. Rosa no longer chases and terrorizes our children.
Absolutely, Tina is/was a complete asset to us. Without Tina I do believe that Rosa would have not been the AMAZING family member that she is.
Joy and Cristina
Just over a year ago my family and I rescued a dog from a no-kill shelter in Ft. Lauderdale. This was our second rescue so we 'thought' we were better prepared to train this three-year-old mixed breed. You guessed it, within a few weeks, when our new furry family member became comfortable with her new surroundings she began training us. We named her Happy because we were anticipating the kind of dog we wanted her to be.
Happy was a shy, frightened dog that exhibited signs of discomfort around other dogs and was inconsistent in her approach with people. No surprise she lacked confidence knowing that she was surrendered with three other dogs and spent more than three weeks at the shelter. We live in a dog-friendly neighborhood with many families and children. In addition to Happy's inconsistent behavior with people and dogs, she also liked to take us for walks. Happy would pull us wherever she wanted to go, dart for cats and squirrels and was not responding to our attempts to correct her.
We knew that we were in need of help but where should we turn. The internet was full of options. Overwhelmed with our search, we stopped looking, and Happy's behavior was getting worse. As luck would have it, we met friends at a neighborhood party who also had a new dog join their family. Within minutes and without inquiring this family raved about the dog trainer they had found. As they described the changes in their dog's behavior in such a short period, we didn't waste a moment.
Upon returning home, we called Take the Lead. On our first phone call attempt, Tina from Take the Lead answered the phone. She listened patiently as we described Happy's behavior. Within 24 hours, Tina was at our house. We were thrilled that she offered to meet Happy in her environment and become familiar with Happy's walking routine, her walk route around the neighborhood as well as furry friends in the area.
Tina's hands-on approach with Happy and the tips she practiced with us on the first appointment made an immediate difference. From managing Happy during the walk to recommending behaviors in our house, to Happy's crate and lessons about pack leadership we were well on our way to being better parents for Happy. Impressed with this type of immediate result from the first visit we asked Tina to continue helping us be consistent with Happy.
Today, Happy is an entirely different dog. She is confident, fun loving and genuinely, Happy. And if you have never seen a dog smile check out how she 'really' smiles for the camera. Thanks to Tina, we can now walk Happy to the beach, interact with other neighborhood dogs and let children in the neighborhood approach her with confidence. And while Happy has graduated from Take the Lead, we still engage Tina for new tricks and tips for Happy.
Thank you, Tina, for your professional hands-on approach, flexibility in your schedule to accommodate our routines and always being available whenever we needed you. We could not have made progress with Happy without you! You are stuck with us as #1 fans of Take the Lead!!
Jim and Denise
My husband and I hired Tina from Take the Lead to help us become successful pet parents. We wanted Charley, our 11-pound dog, to be well-behaved at home and out in public. We hoped Tina would teach us the skills necessary to achieve that goal.
On occasion, Charley would get fidgety and rambunctious and wanted lots of attention. Tina taught us how to "place" him. It was a kind of "time-out" which both helped him to relax and create a quiet environment for us. This is an extremely effective technique and is an integral part of our toolbox.
When we first got Charley, he wanted to walk us rather than visa versa. Tina modeled the appropriate walking procedures and showed us how we are to "take the lead" – not Charley. He walks about 3 miles a day and this activity has turned into something pleasurable for all of us.
We wanted Charley to like being in his kennel. As a result of Tina's coaching, Charley goes to his kennel on command and sleeps in it at night and throughout the day when we're gone.
Early on, Charley would bark incessantly at bikers. We told Tina about this issue. In order to correct the problem, Tina put Charley on his leash and had him run along side of her when she rode her bike. He never barked at bikers again.
Tina not only listened to our concerns about Charley, but found alternative and effective ways to address any issues that surfaced. She modeled the techniques, gave us a chance to exhibit what we learned, and critiqued our performance. We became better pet parents!
It is my pleasure to provide this testimonial. I give Tina an overall 5-star rating for caring about her clients and their pets. Thank you, Tina!
Jill
I highly recommend Tina and Take The Lead. Tina is so knowledgeable and calm around all dogs. She is a true "dog whisperer". Before meeting Tina, my dog, Callie, was in total control and pulled terribly every time "she" took me for a walk. It was never a pleasant experience. But, because of Tina's training, Callie has been transformed into a different dog… more obedient and walks with me now instead of pulling me along after her. More importantly, Tina has taught me strategies that have allowed me to be in control and how to better manage my 18lb. dog's inappropriate behavior. What a relief!!
Brenda
My dog has been very insecure since we got her as a puppy. We had tried every trick our vet had to offer to calm her down when we would leave her, but nothing worked. When Tina started working with me and my dog (now 6 years old), she taught me how to create a safe place for her and to be patient while she learned how to sooth herself each time we left her. What a difference that has made. Tina is a firm, but gentle trainer. My dog knows who the boss is every time she sees Tina and she really likes that!! So glad to have had the opportunity to be trained by a real pro.